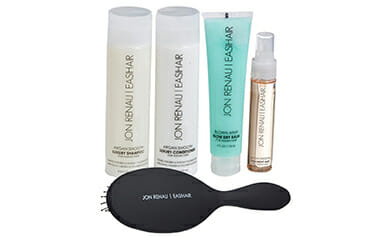 Wigs are an investment, rather than a one-off wear and chuck it when it looks shabby! It is important to care for your wig to increase its longevity! Here are a few tips and awesome products that will assist to care for your wig.
Firstly, the care and maintenance methods depend on what type of wig you have. Is it synthetic, heat defiant or human hair?
Caring for your synthetic wig:
Be gentle when you brush your wig. Rather use a special brush over a regular hairbrush. And don't brush it too often. You can find the perfect Jon Renau Paddle Wig brush for your wig at Wigs.co.za.
Try not to wear your wig when you are sitting at home. Pop it on your wig stand and let it have a rest. If you feel naked or cold without your wig on, try some of these gorgeous turbans, wraps, hats or softies from our Headwear Collection.
Take care when washing your wig. Pat it dry gently and don't wring it out. Use good products to protect the wig and give it the shine of natural human hair. Take a look at the Jon Renau wig care products to find the perfect match for your wig.
Caring for your heat defiant wig:
Heat resistant synthetic fiber is available in full and partial systems (wigs and toppers) in our Heat Defiant (HD) Collections at Wigs.co.za. This type of fiber can tangle and frizz easily. It is important to remedy any tangling daily.
At the end of every wear, place your heat resistant wig/ topper on its block.
Use the HD Smooth Detangler in the nape area and/or the ends. This product is recommended for daily use. It is important to stay away from all hand tied areas of the cap; conditioners, detanglers, and oil-based products will loosen the hand tied knots, causing hair loss in the system.
Only use your Jon Renau Wide Tooth Comb to gently remove any tangles; always comb starting at the bottom and work your way up through the hair length.
These wigs need heat to smooth the frizzing. Use your flat iron to apply heat to smooth out the ends. This will ensure its longevity.

Caring for your human hair wig:
Take your wig off and place it on its block when you are not wearing it. It is recommended to wash your human hair wig every 6-8 wears.
Wash the wig with cool to lukewarm water and your favorite Jon Renau wig care shampoo and conditioner. Take care when towel drying the wig, blot it gently and do not wring it out.
Place your wig on its block and blow it out with our specially formulated Jon Renau Blown Away Balm.
Speak to any of our EasiHair Pro Salons / Jon Renau stockists, who are trained to help you care for your wig/ topper. Your local stylist can be found using our online locator.
A healthy-looking wig starts with proper care. Our wig shampoos and conditioners, styling products, brushes, wig liners, and adhesives are engineered to ensure the prolonged life of your wigs and hair pieces.
Helpful links from Jon Renau:
https://www.jonrenau.com/blog/washing-synthetic-wigs-rosemarie-infographic/
https://www.jonrenau.com/blog/steps-reviving-human-hair-wigs-pieces/